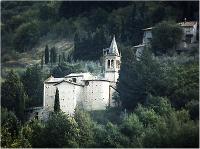 Chiesa di San Vincenzo Ferreri
Below Trevi itself is
Borgo Trevi
, where the nearby
church of San Vincenzo Ferreri
is worth a visit.
Two kilometres from Trevi in the direction of Foligno, near the Via Flaminia and the remains of some Roman baths, there is the
church of Santa. Maria di Pietrarossa
, a
14th century therapeutic sanctuary
. The massive Gothic entrance is 15th century. A number of 14th and 15th century votive frescoes adorn the interior.
The belief that the sanctuary has beneficial effects for skin is based on three ritualistic components: the water of St John from the nearby well, the red stone embedded in the fifth column of the right hand nave and the fresco of St John.

Torre di Matigge
Not far off, still in the direction of Foligno, stands the lonely 1395 watch tower
Torre di Matigge
, which has remained perfectly intact even in its crenellations. At
Matigge
there is the
church of San Donato
.
A kilomentre southwards from Trevi, towards the Via Flaminia, stands the
church of Santa Maria delle Lacrime
. The building dates back to the Renaissance and was erected in 1475 to a design by Antonio Marchisi. Fine bas-reliefs adorn the entrance. The latin cross interior houses the funerary monuments of the Valenti family from the 16th to the 17th century. Above the second altar to the right hangs the '
last painted work by Perugino
(1521), 'Adoration of the Magi with St Peter and St Paul'. The miraculous image of the Madonna, believed to cry and from which the church takes its name, is on the altar of the right hand arm of the transept.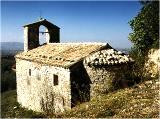 Chiesa di S. Donato
At
Bovara
, 3 km south of Trevi, stands the
abbey of San Pietro
, which dates back to the 12th century. The facade has been extensively remodelled and presents an arched entrance embedded into the structure with a two-mullioned window either side in line with the lateral naves of the interior. The central rose window is surmounted by a drum. The central nave has barrel vaulting, while cross vaulting has been used for the lateral naves. The crypt is beneath the raised persbitery. A wooden Crucifix in one of the lateral chapels has been indicated by some as having a connection with St Francis' vision of thrones. The fact that it dates from the 14th century makes this supposition highly unlikely, however.