Originally an Umbrian settlement, under Rome Assisi became a
municipium
with the name of Asisium. Up until the 13th century the city perimeters remained the same as they had been in Roman times. Bishop Rufino evangelised Assisi in 238 AD. Wrested from the Goths of Totila in 545, Assisi passed under the dominion of the Longobard and Frankish Duchy of Spoleto. In the 11th century it proclaimed itself a free ghibelline
comune
, constantly clashing with the nearby guelph Perugia. In 1189, taking advantage of the absence of the imperial vicar Conrad of Lutzen, the inhabitants of Assisi stormed the city's fortress. In retaliation for Perugia's interference with the city's bid for freedom, Assisi marched against its ancient rival and was defeated at Ponte San Giovanni.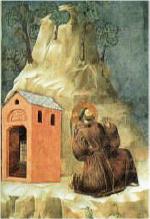 Giotto: San Francesco riceve le stimmate
Amongst those captured by the Perugians was a certain
Giovanni di Bernardone
, called
Francesco
. Born between 1181 and 1182, he was the son of the wealthy cloth merchant Pietro di Bernardone, originally from Lucca, and of his Provenšal wife Pica. Once Perugia had released him from prison, Francesco decided to reclaim his honour by joining the crusade of Gualtier de Brienne but an illness forced him to abandon his plan before he had got as far as Spoleto. Meanwhile the future Emperor Fredeick II had been baptised in Assisi in 1197, three years after his birth in the market square of Jesi, in the Marches. Francesco decided to change his life by renouncing all the comforts and riches of his family. At San Damiano in 1205 Francesco (Francis) had a vision that bid him rebuild the church
In 1208 Francis, who had in the meantime been given the
chapel of Santa Maria degli Angeli
by the Benedictines, also known as the
Porziuncola
, founded his own order, the Lesser Friars.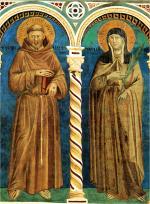 San Francesco e Santa Chiara
Following his meeting with
Chiara di Favarone di Offreduccio
, a girl from Assisi of noble birth, Francis founded the Sisters of Claire for her in 1212
In 1221 Francis founded Third Order (lay) at Cannara. Francis received the stigmata in 1224 at La Verna and died in 1226 at La Porziuncola. Francis was proclaimed saint just two years after his death. The following day Pope Gregory IX laid the foundation stone for the church and convent Francis' companion Fra' Elia wished to erect. Claire was also canonised two years after her death in 1253. A year later work began to build the church in her honour.
Notwithstanding these two eminent religious figures, the history of Assisi followed another course. In 1316 Assisi extended its city walls to include the complex of the Basilica of St Francis, the Benedictine convent of San Pietro and Borgo Aretino. The city went into a decline after the plague of 1348. To secure the dominion of the Church over Assisi, in 1367 Cardinal Albornoz ordered the Rocca Maggiore to be built on what remained of the imperial fortress above the city. From the 14th through to the 16th century the two main families in Assisi, the Nepis above and the Fiumi below, feuded viciously depite the fact that the city was under a succession of rulers for long periods (Biordo Michellotti, Broglio di Trinci, Galeazzo Visconti, Braccio Fortebraccio, Francesco Sforza, Jacopo Piccinino). The city only finally endered the dominion of the Church under the Piccolomini pope, Pius II (1458-64).