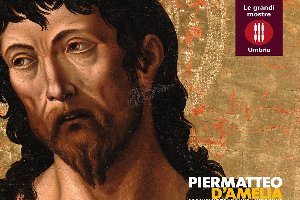 The exhibition devoted to Piermatteo d'Amelia, scheduled to run from
December 12th to May 2nd
next year, aims to acquaint the general public with a lesser-known artist who nonetheless was a major figure in the late Quattrocento and one of the great masters of the Renaissance in Umbria.
A wealth of detailed archive information concerning the work of
Piermatteo
has survived, indicating that his career played out chiefly in Southern Umbria as well as in Upper Lazio and in Rome itself.
His apprenticeship was carried out alongside Filippo Lippi from 1467 to 1469 while the master was working on his commission for the frescoes of the Duomo of Spoleto. After Lippi's death in 1469 Piermatteo continued to learn in Florence with Lippi's leading assistant Fra Diamante. It was in Florence that Piermatteo first came into contact with the prolific workshop of Verrocchio. Immediately afterwards he started working with Perugino on the Sistine Chapel (1480-1481), for which he designed the decoration of the ceiling and completed several sections alongside Pinturicchio – The Journey of Moses and The Circumcision.
During this time he did not, however, interrupt his frequent journeys to Umbria to work on a number of major commissions such as that of the Opera del Duomo in Orvieto (1480-1481), for the Augustinian Friars in Orvieto (1482) and for the Franciscans in Terni (1483). It was at this stage that Piermatteo became acquainted with the art of Antoniazzo Romano.
Opening times
10am-7pm. Closed Mondays, Christmas Day, December 31st. Open April 5th. On Saturdays the Terni section of the exhibition will remain open until midnight.
Visiting formulae
The two venues of the exhibition, one in Terni and the other in Amelia, are included in a single ticket that also gives access to the Museo d'Arte Moderna e Contemporanea Aurelio De Felice and the Museo Archeologico (that make up the town's CAOS museum system) as well as to the Museo Archeologico and the Pinacoteca in the former Collegio Boccarini of Amelia.
Tickets
Standard: € 9. Reductions: € 7,00.
Info and bookings
:
www.piermatteodamelia.it, www.ticketeria.it, 199 757 516
Booking number for guided tours and schools
800 911 984
Itinerary
Terni
CAOS
Centro Arti Opificio Siri
Amelia
Museo Archeologico, Pinacoteca and parish church of Porchiano
Spoleto
Cathedral of Spoleto.
Narni
Church of Sant'Agostino.
Orvieto
Duomo of Orvieto.
Avigliano Umbro
Church of the Madonna in Toscolano.