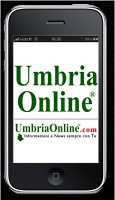 The application can be used throughout Italy and in all Countries of the World, and is particularly useful for planning your holiday in Umbria.
The UmbriaOnLine iPhone Application keeps you up to date on all the News and everything that's going on in Umbria, Italy.
It is possible to find the following kinds of information from the region's 92 Comuni in direct contact with operators:

> News
> City Guide
> Points of Interest
> Lodgings
> Restaurants and Nightlife
> Shopping
> Properties for Sale
> Properties to Let
> Search Results According to Positioning
> Updated Weather Forecasts
> Photo Galleries
> Videos and Interviews

DOWNLOAD GRATIS

Welcome to Umbria !