- Road Map of Umbria
---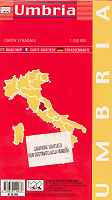 Perugia. An updated map of Umbria on a scale of 1:250,000, measuring 60x86 cm. Ideal for tourists and residents alike, the map features a number of interesting places to see, alongside the more beaten track of munuments.
Title: Carta stradale Umbria.
Publisher: Litografia Artistica Cartografica, Firenze.
Languages: Italian, English, German, French.
Cover price: € 6.50.
Info: Litografia Artistica Cartografica s.r.l., Via del Romito 11/13 R 50134 Firenze, tel. 055.483557, fax 055.483690, e-mail info@lac-cartografica.it.




---
: First 14 News
---
Top
© Copyright 2000-2018 by ®